One of the most important features of outdoor furniture are the opportunities it can grant its owners to use and experience areas of their homes in brand new ways. A dining set creates the chance to host friends and family for an al fresco feast; a modular sofa arrangement around a fire pit lets users relax in warmth and deep comfort amidst the cool fall air, and a reclining lounger lends the perfect location to soak in the rays of the midday summer sun. Different types of furniture act as the catalyst to enjoying different experiences in all types of environments—that is, when the weather chooses to cooperate.
When it comes to enjoying time spent outdoors during the long, hot days of summer, the sun can be both one's best friend and biggest rival. A day that starts by basking in the warm rays of the late morning sun can easily turn into an afternoon of combatting the oppressing heat. Gloster offers a variety of products that offer shade and cool comfort at all times of day despite even the best efforts of the shining sun. Whether the goal is shade, privacy, or a little bit of both—Gloster has you covered.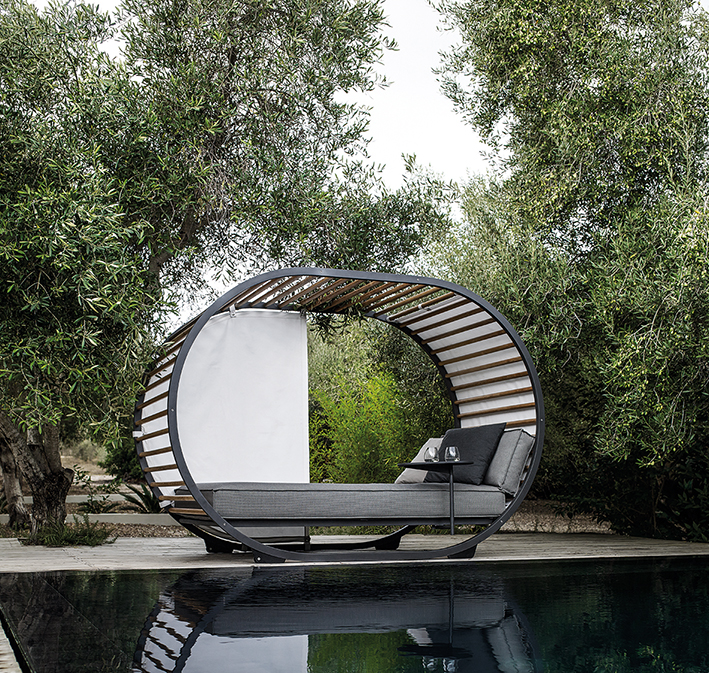 As one of the first outdoor day beds to grace the Gloster catalogue, Henrik Pedersen's CRADLE helped to define a category of our furniture that would only grow in years to follow it's 2015 introduction. With a design philosophy based in the desire to create an outdoor oasis that provided a balance of openness and enclosure, Cradle offers a comfortable and luxurious blend of shade and privacy. Adjustable screens, a litany of fabric options, and choices of color and table options all help this collection adhere to the goal originally set forth by its designer: "to create a private space as subtle as it is effective…an infinitely changeable piece that can be used whatever the mood and wherever the place". Explore this teak-styled daybed here.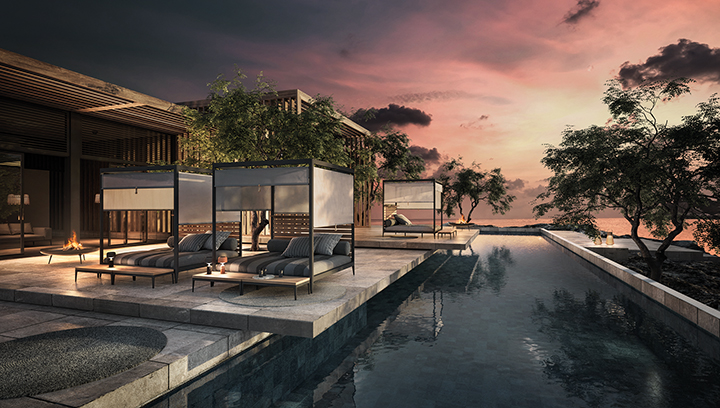 Introduced for the 2021 season, the Grid Cabana was Henrik Pedersen's next evolution of the design tenets originally explored with his Cradle collection. An outdoor daybed with a canopy, the Grid Cabana offers greater measures of both privacy and comfort than any other member of the Gloster catalogue. Adjustable screens which are easily maneuvered and built subtly into the frame of the Cabana itself grant users the ability to define their openness to the world. Stylish fabrics, luxuriously deep cushions, and oversized bolster pillows offer unparalleled levels of comfort. Various options of powder coated aluminum frames and teak accents give the Cabana the style and function to be at home in any environment. Whether to bask in warmth or hide yourself from the sun and socializing alike, this piece more than accomplishes it's creator's goal: to be a "shaded and sheltered second home for one, two, or more to escape within—the perfect vessel in which to cast yourself free". Explore this modern outdoor daybed here.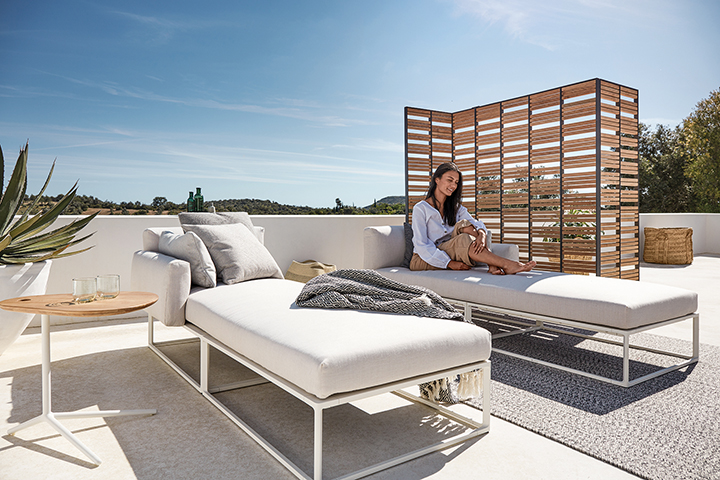 With teak slats equally adept at breaking up sight lines and the sun's rays, the screens of Gloster's Deco collection provide a perfect balance of privacy and cover for an accessory outdoor furniture piece. Explore the multitude of arrangements made possible by the modularity of this unique piece of furniture, and help your ideas come to life with Gloster's 3D Planner Application.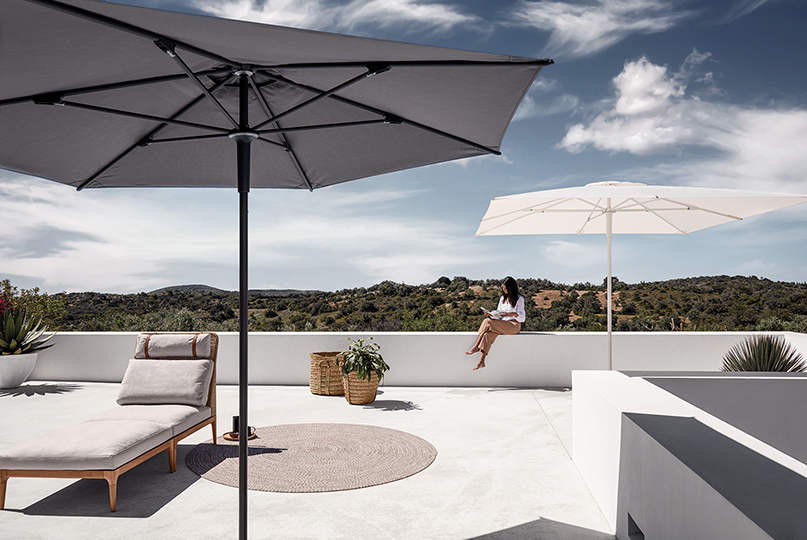 The best days spent outdoors always include a healthy balance of sun and shade. Gloster's Halo collection of outdoor umbrellas support that balance without sacrificing style, comfort, or adaptability. Sturdy, aluminum frames in Gloster's signature powder-coated colours and heavy-duty Sunbrella fabric canopies form the foundation for both our standard push-up and cantilever options. With Halo, the next welcome respite from the sweltering midday summer sun is never far away. Explore the possibilities of this collection here.