Nothing can quite replicate the unique essence associated with the "Lounger" seating category. With an extended seat that offers the user the chance to take full advantage of their seating space and reclining back rests that accommodate for any level of comfort, Loungers embody all of the most desirable parts of outdoor relaxation. Relaxing by the side of a pool, soaking in the midday sun, or comfortably curled up with a book—the perfect outdoor lounger seat allows you to be embraced within the tender grasp of the moment, and nothing more. Gloster offers a multitude of options to bring your enjoyment of the style of your lounger up to par with your experience of relaxation. Read on to explore more of this unique part of our catalogue and visit the lounger page on Gloster's site: https://www.gloster.com/en/search/lounger.
Gloster's 180 collection stakes its claim as a functional favorite, with a utilitarian combination of styling and materials used to produce a simplistic yet stylish and comfortable seating arrangement. The sling lounger of 180 adheres to these stylistic tenets, with a flowing powder coated aluminum frame acting as both armrest and leg in support of a mesh sling seat. The ability to stack these chairs for storage and easily move them around via rear wheels makes the 180 lounger perfectly suited to adapt to your storage or accessibility needs. Explore this piece and the rest of the 180 collection here.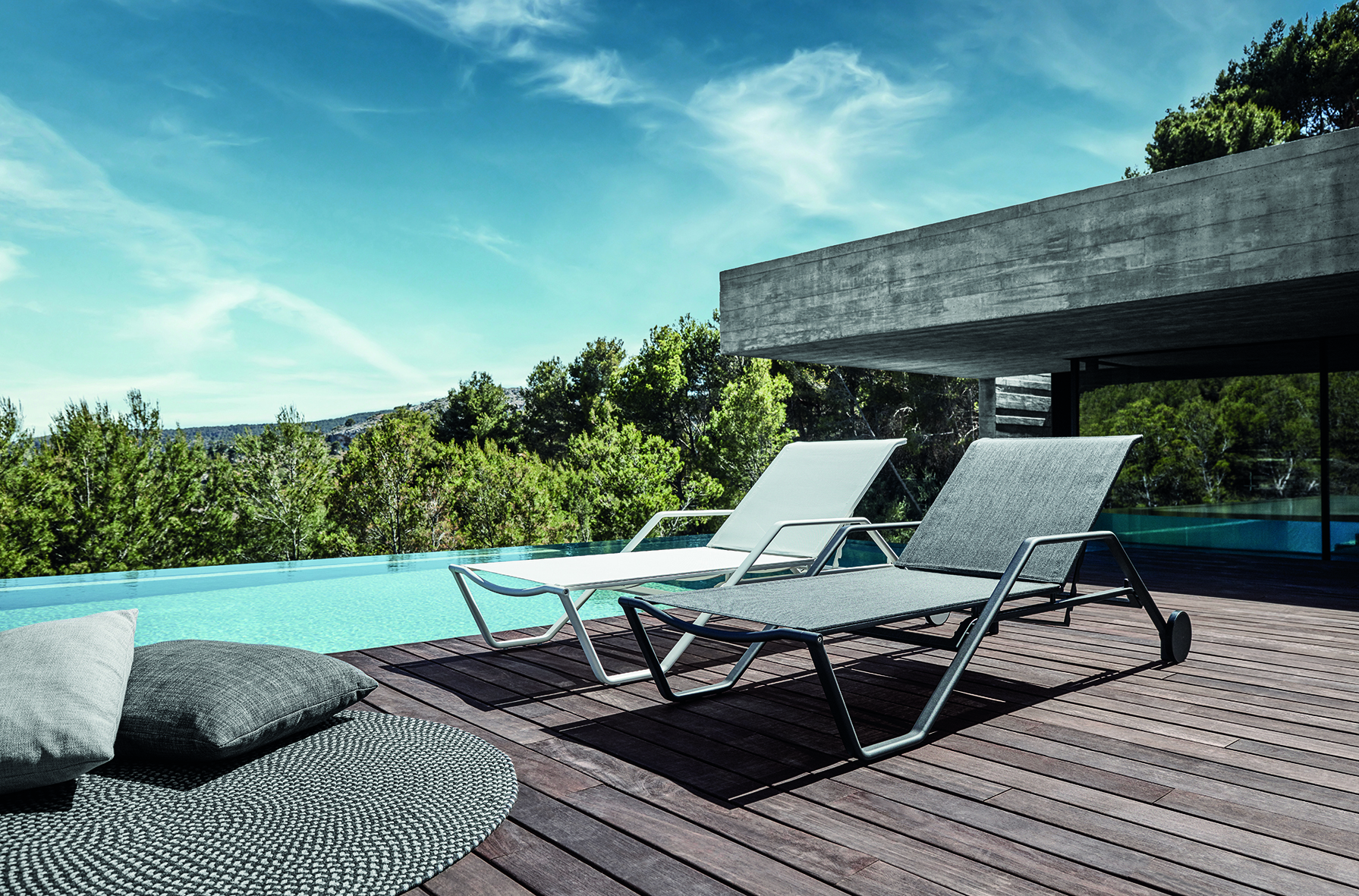 180 Loungers.
The Bay and Grid loungers offer perhaps the highest degree of relaxation for this category of the Gloster catalogue. The plush, welcoming cushions of these loungers provide uncompromising comfort, enabling users to be subsumed in the lap of a softly supported, perfectly reclined pleasure. Between the powder coated frame and teak accents of the Grid option and Scandinavian style, all-teak base of Bay, these two luxury chaise loungers offer users a wide degree of stylistic solutions while standing at the intersection of uncompromising comfort and beautiful design. Explore these pieces and more on the Bay and Grid collection pages.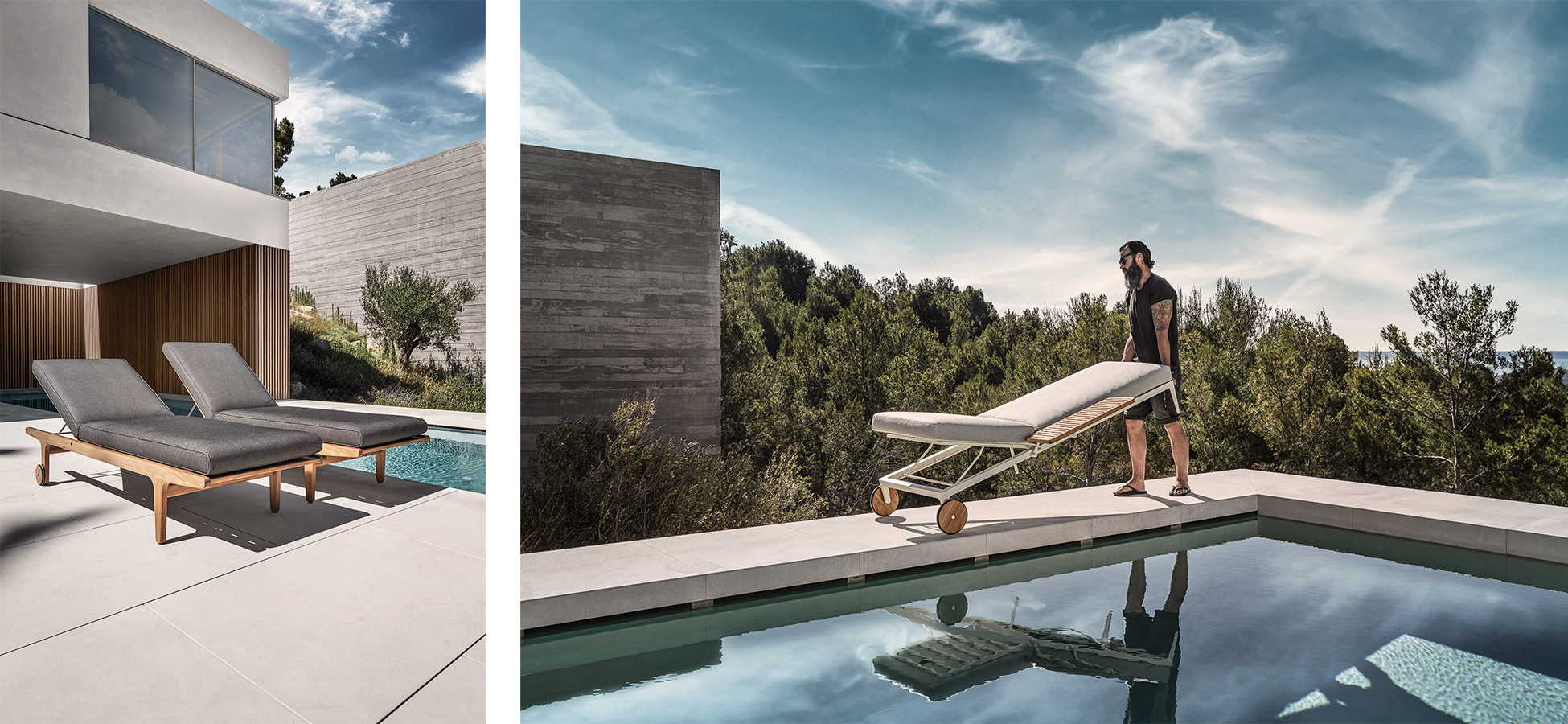 Right Bay Loungers, Left Grid Lounger.
Gloster's Kay and Solana loungers each bring their own unique traits to the table. With an oversized, intricately woven back of French Cane style wicker combined with a finely proportioned teak frame, the Kay lounger offers a comfortable and stylish embrace as you sit. Color options of Harvest, Brindle, and Copper leave this outdoor wicker lounger well suited to match the color palette of any environment or stylistic direction. The Solana lounger represents a unique aesthetic, with a minimal, angular structured teak base supporting a seating area of sling or teak slats. Whether selected to be a sling lounger or teak lounger, Solana provides a combination of timeless style and easy comfort. Explore their collection pages to see all that Kay and Solana have to offer.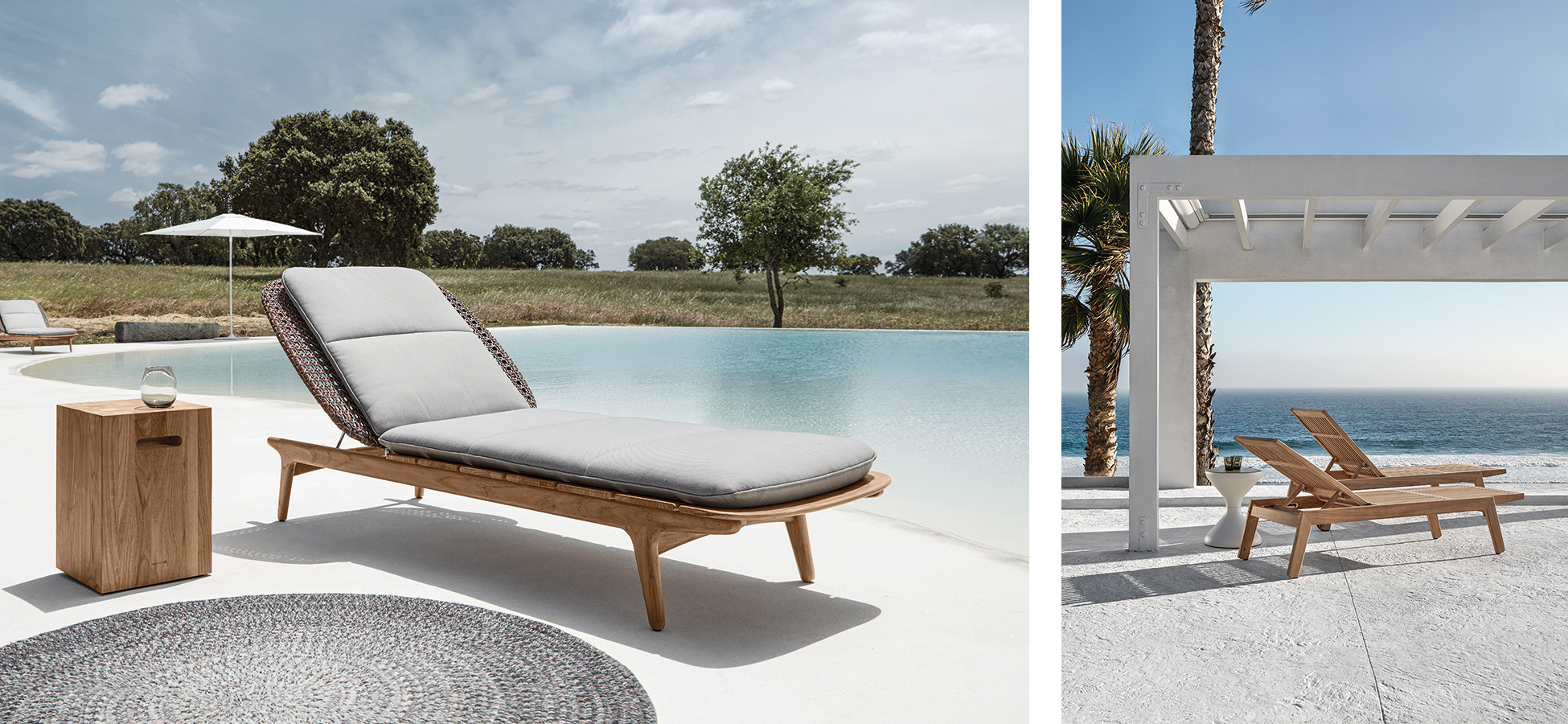 Right Kay Lounger, Left Solana Loungers.
In 2022, Gloster is expanding our offering of lounger seating options through both entirely new collections as well as fresh additions to well-established lines. The Lima and Sway collections will add loungers that adhere to the stylistic themes of the overall collection while adding a long-desired new range of function, while Henrik Pedersen's new introduction of the Zenith collection provides a fresh take on the familiar concept of a luxury chaise lounger. Explore these collections and more on our 2022 Season Launch Page.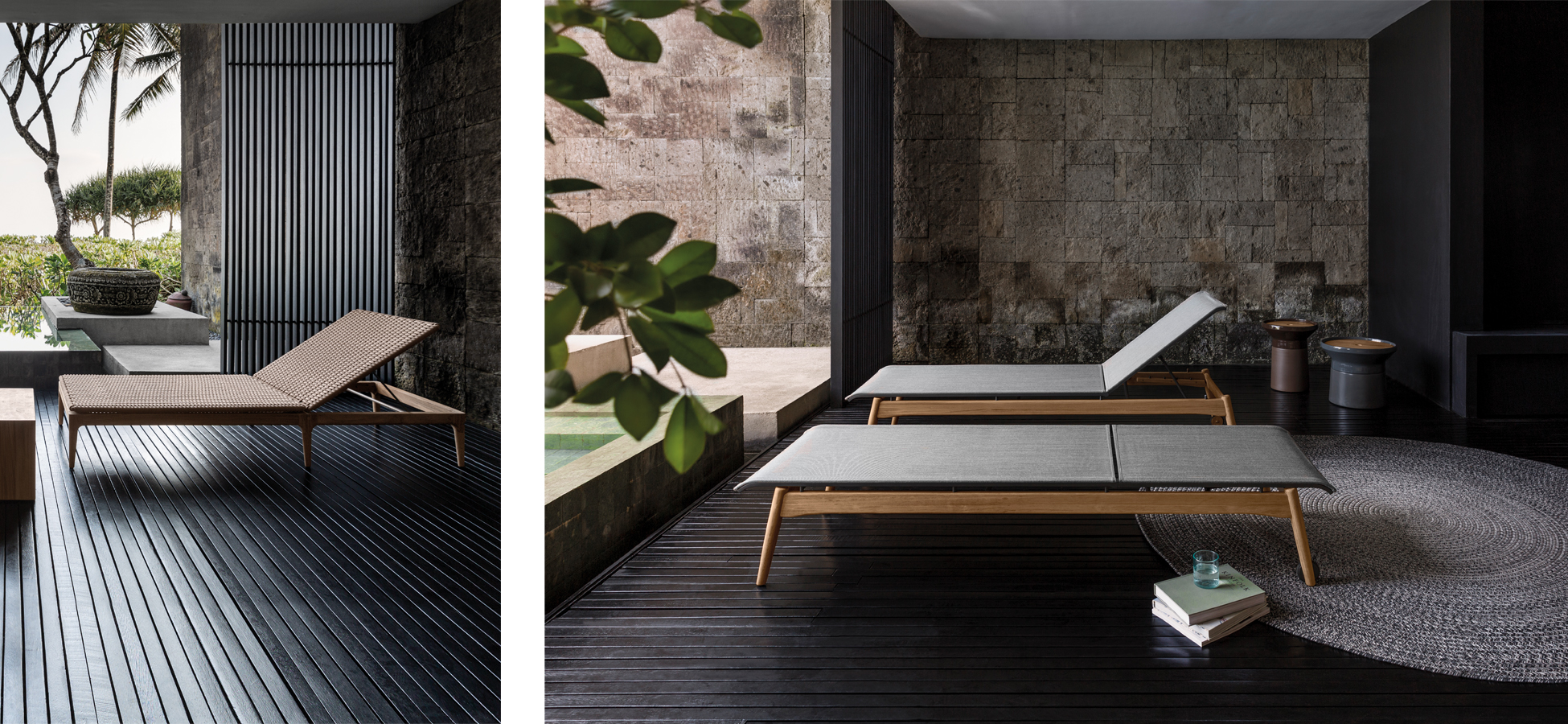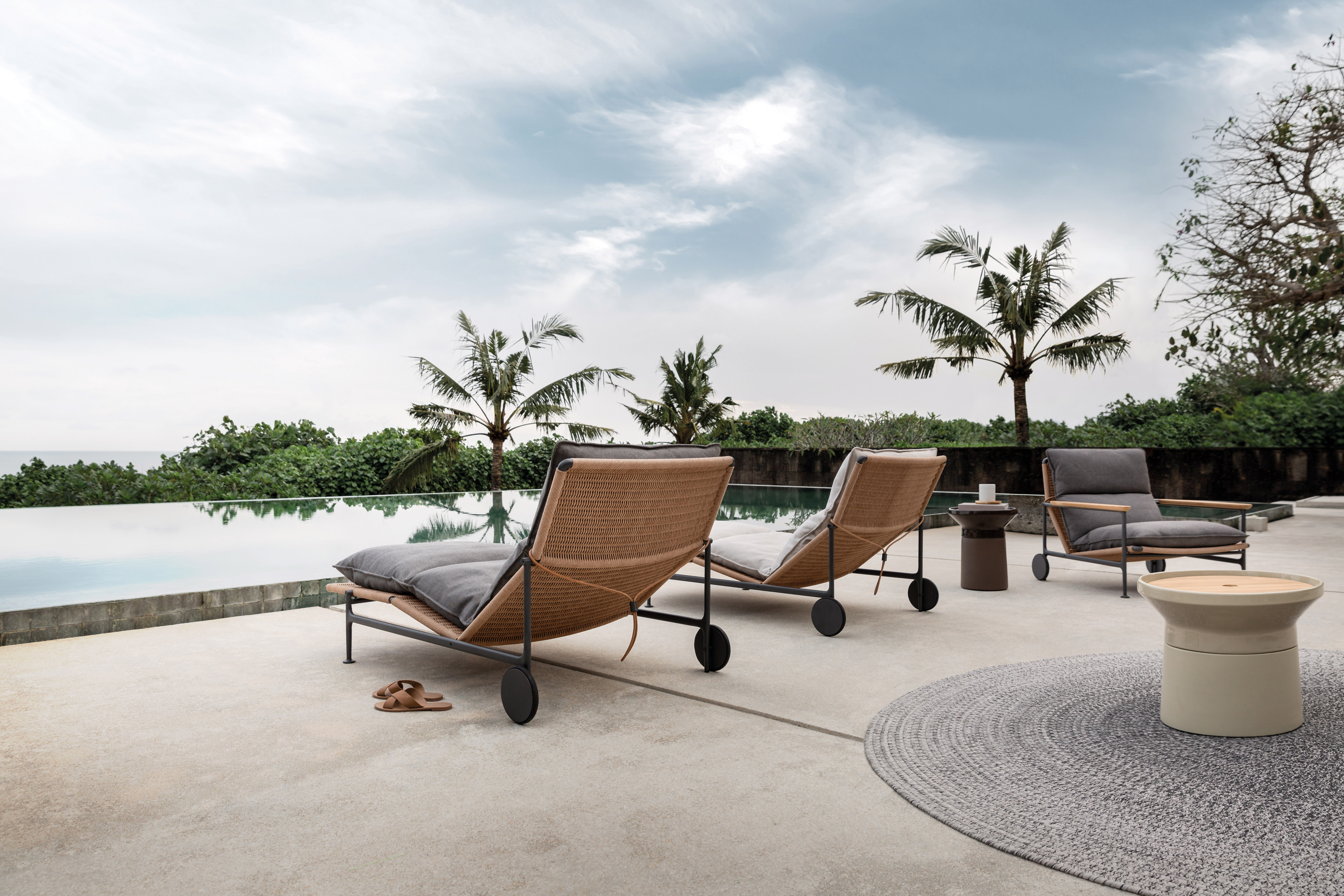 Top Right Lima Lounger, Top Left Sway Loungers and Bottom Zenith.