Every piece of Gloster furniture seeks to strike a balance between beautiful design and practical function, and the wide array of ceramic stone top options available on Gloster's dining, side, and coffee tables are an essential part of this goal. No matter the colour or collection they appear on, Gloster's outdoor ceramic stone top tables offer a unique and enticing combination of form, function, and resiliency that set them apart in the luxury outdoor furniture realm and create an extravagant alternative to teak topped tables.

Bianco, Nero, Pumice, and Emperor.
Available in a variety of finishes, Gloster's ceramic stone tabletop offerings begin the assembly process as a solid ceramic slab which is eventually divided according to the individual shapes and sizes needed for each specific furniture piece. While the "ceramic" title may evoke associations of frailty or breakability, in reality virtually the opposite is true. Harder than granite, fire, heat, and UV Ray-proof, and with a water absorption level of close to zero, these tables are ideally suited to thrive in all outdoor environments no matter the condition. In addition, they offer a quick, easy, and low-maintenance cleaning process—a combination of detergent and a light cloth brushing can keep these pieces looking sleek and presentable season after season. For a client interested in a modern, contemporary, and non-teak aesthetic, ceramic stone tabletops present the ideal luxury alternative.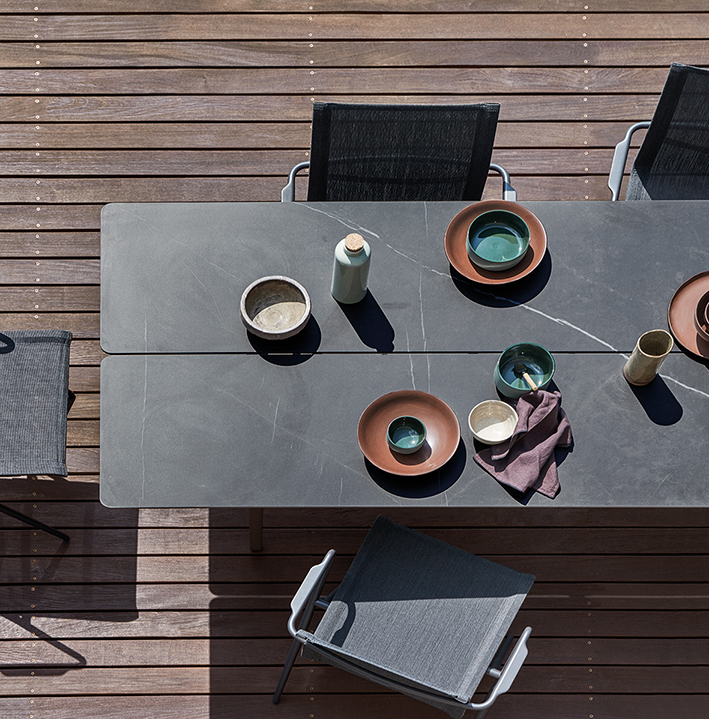 Split Dining Table and Ryder Dining Chairs.
Some of Gloster's most popular and unique collections utilize our ceramic stone material. The Gem collection, evocative of an oversized piece of jewelry or the remnants of an abandoned temple, showcases 18 panels of hand-trimmed ceramic surfaces, each perfectly beveled to flawlessly tesselate with each of its neighbor panels. The modular sectional collection Grid—long one of Gloster's handful of top selling collections—offers chaise and end units with ceramic side table options, pairing seamlessly with the coffee and console table selections from this collection.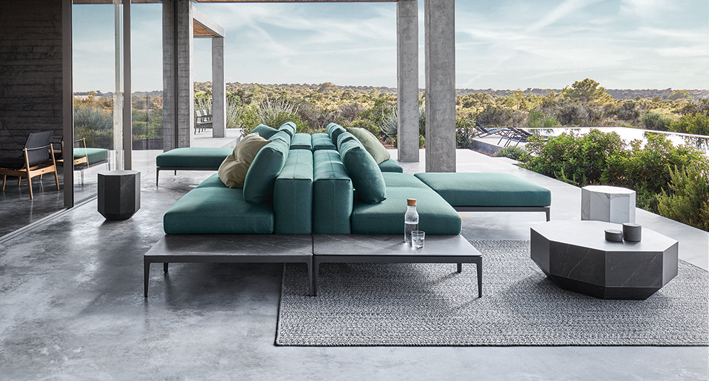 Grid and Gem Side Tables.
Of course, the most popular usage for Gloster's ceramic material is put on display on our dining and bar tables. Two of our most highly regarded collections in this category, Carver and Split, rely on ceramic tabletop options to help define their unique personalities. With different sizes, functions, and heights of these popular tables compatible with all of our ceramic stone options, the range of this innovative material is fully explored and utilized.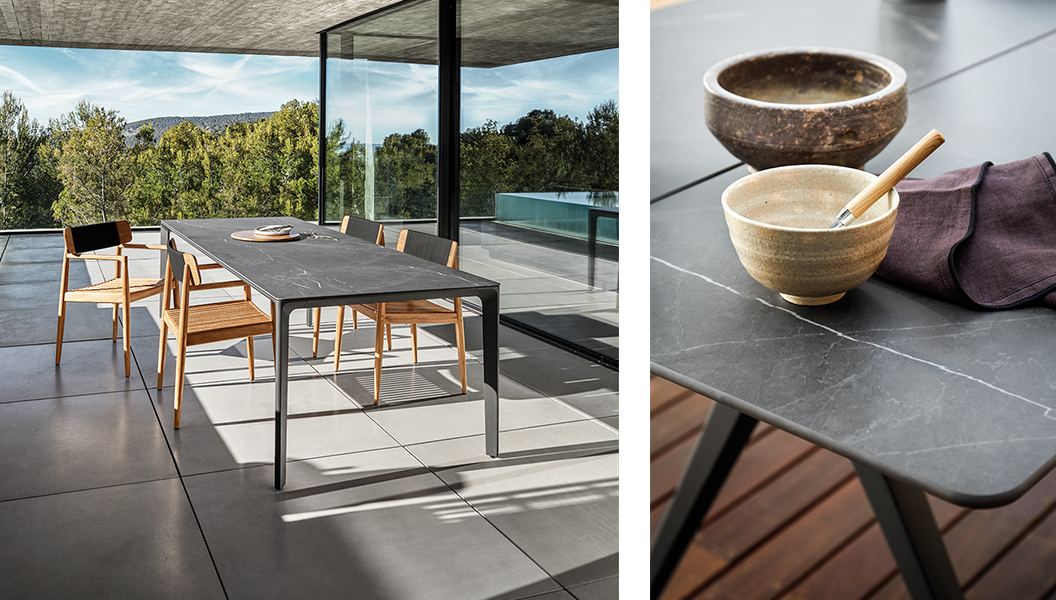 Carver Table with Archi Dining Chairs and Split Dining Table.
Gloster is excited to announce the fresh addition of a new ceramic colour for the 2022 season: Emperor. A natural extension of Gloster's long-established color palette and brand aesthetic, the Emperor colour ceramic stone presents a path towards furniture arrangements with warm, earthy tones and subtle, welcoming textures. For the discerning user interested in striking an organic, artisanal feel with their furniture collections without utilizing Gloster's teak, Emperor colour ceramic resides in the ideal middle ground between natural styling of plantation grown teak and modernity of powder coated aluminum.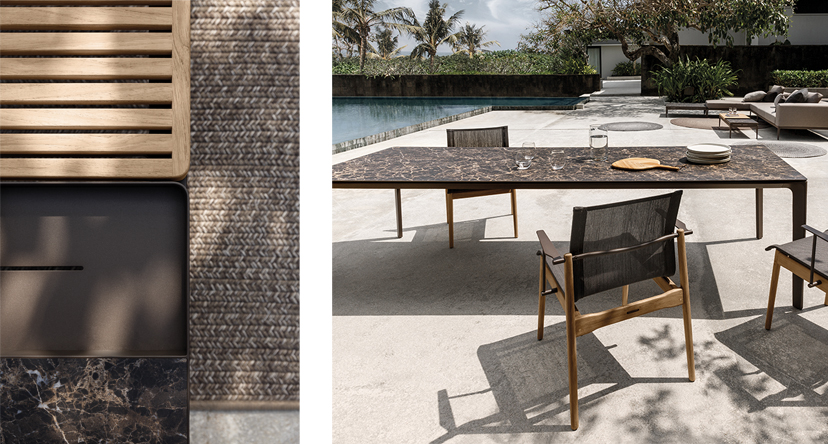 Carver Dining Table with Sway Dining Chairs.
Interested in exploring the full scope of our collections that feature ceramic stone top styling? Visit our website's material page on stone pieces to view every collection that utilizes this stylish, wide-ranging, and functional material.