What differentiates the furniture that occupies a space from being just a random assemblage of unrelated pieces to that of a curated vignette? What are the factors that give an arrangement a visual coherence and fluidity that elevate what may have formerly been a simple space into one of the premiere areas of a home? While the answer to this question is certainly up for some measure of debate, what is beyond question is that accessory furniture pieces are an important aspect of what uplifts a space into something truly memorable, functional, and appealing. By their very nature, the purpose of accessory furniture pieces is to complement the aesthetic established by the furniture and environment of a space. While the architecture of a room, the atmosphere of an outdoor patio, or the selected pieces of furniture may act as the preeminent factor for defining the personality of a space, accessory furniture pieces serve to fill in the gaps and act as the finishing touch in achieving the beauty, function, and style desired by the user or interior designer tasked with assembling the arrangement.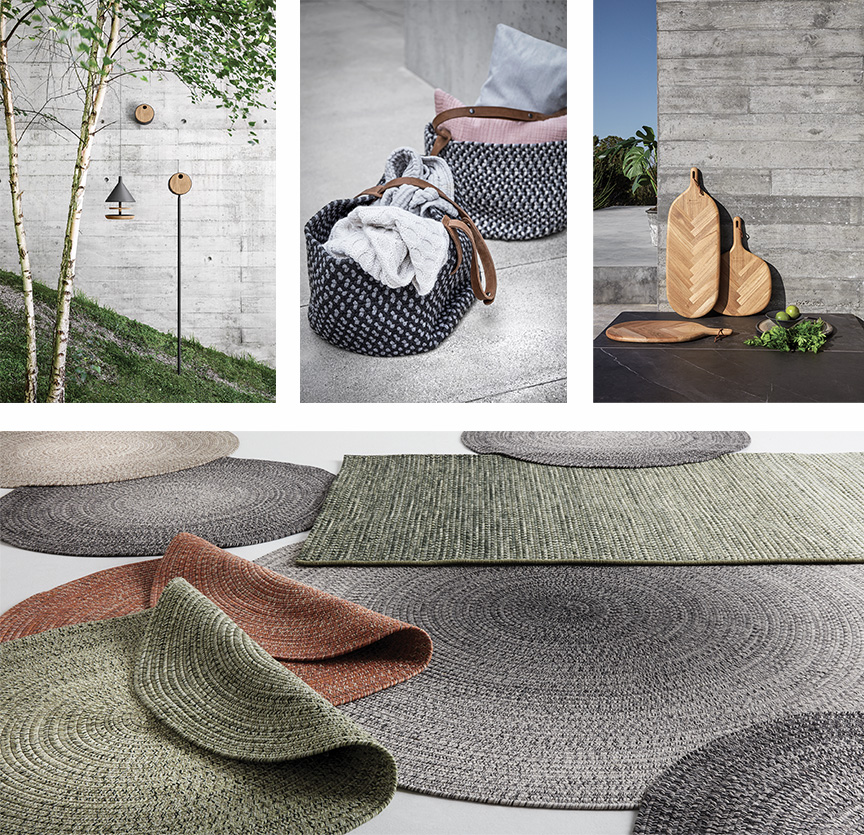 Left to Right: Bird Feeder & Box; Baskets; Cutting Boards and Rugs.
When the discussion shifts to al fresco furniture arrangements, outdoor patio accessories take on an elevated level of importance. Without decorations hung on a room's four walls or the ornate architecture of a painstakingly designed interior commanding one's attention, accessory pieces shoulder a much heavier load in terms of establishing the aesthetic of a space. Accessory pieces designed for the outdoor realm also cover a broader spectrum of functions, with items like parasols, hanging planters, outdoor ambient lighting, fire bowls, and even garden showers all contributing to the coherence of an outdoor vignette. On function alone, patio furniture accessories cover a broad base of styles and interests; however, it when these types of items are created not just to achieve premiere function, but also to achieve a premiere style and visual rhythm, that the highest potential for an outdoor furniture vignette becomes unlocked.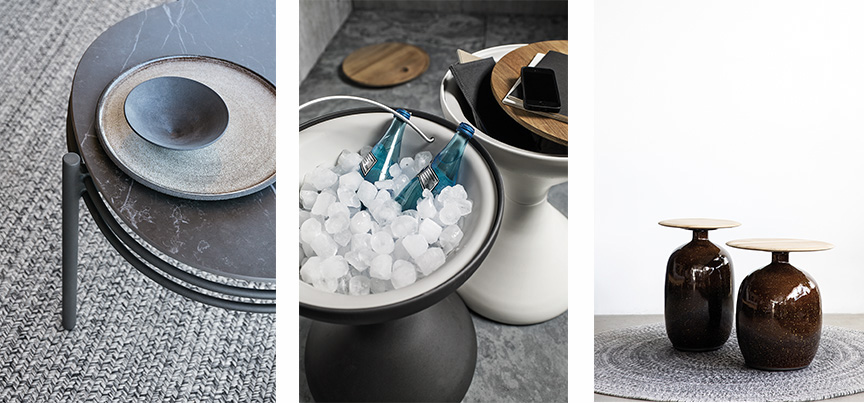 Left to Right: Dune side table; Bells; Blow Coso.
Gloster offers a variety of outdoor accessory furniture that meets the highest standards of both form and function. At the forefront of our outdoor accessories stand our wide range of side tables. Whether they exist as a standalone collection like the powder coated aluminum, teak topped Bells table, the glazed ceramic Blow collection, the multitoned <a Coso table, the angular ceramic Gem table, or as part of a greater grouping like side tables of the Dune and Maya seating collections, the wide differentiation of styles and materials present in these pieces ensures that Gloster accessories can contribute to a vast array of stylistic intentions.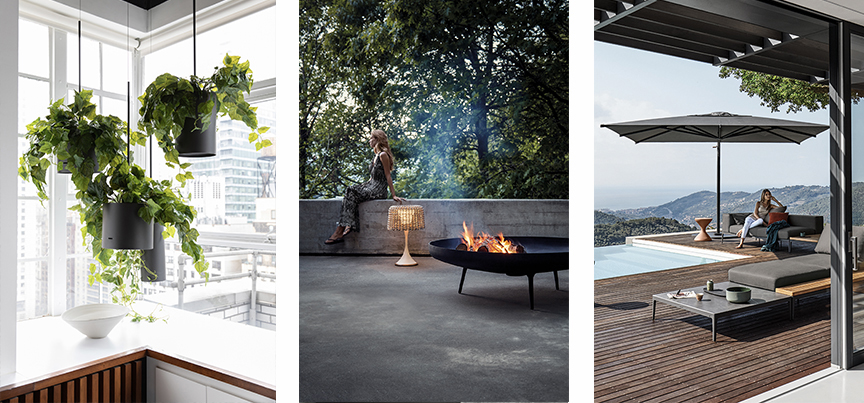 Left to Right: Deco Planterns; Deco Fire Bowl; Halo Parasols.
Gloster Ambient lighting, with it's solar charging capabilities and array of sizes and styles, can be an important contributor to the unique aesthetic of a space while still holding its own in terms of function. Along the same lines, Gloster's Halo Parasols, Deco Fire Bowls, Hanging Planters, and Garden Shower all present a unique element of style while maintaining a high degree of practicality. Explore how these items and the rest of Gloster's outdoor accessory furniture options can help transform your space into the premiere area of your home.