Interview with Marc-Michaels Home Designer Robin Sturm
The very best modern home designers thrive at the junction of stunning products, beautiful locations, and sophisticated clientele. A finely tuned eye for quality and design is unquestionably a driving force for success in the industry; Therefore, it should come as no surprise that regardless of brand or respective product, a manufacturer's success in the luxury exterior design market is intertwined with the partnerships created and maintained with these well-positioned influencers . On the Gloster Blog, we will share discussions with some of the most prominent modern interior design professionals and their relationship to our brand. We'll explore their motivations, inspirations, and thoughts on working with Gloster—as well as exploring pertinent industry insights and developing trends.
After getting her start with Marc-Michaels Interior Design as an intern, Robin Sturm quickly ascended the ranks and is now regarded as one of the top interior designers working with this well established and internationally respected design firm. In March 2021, Gloster sat down with Robin to discuss her long relationship with Gloster, where she finds inspiration for her projects, the unique obstacles and unusual requests she has encountered, and what factors led her to define a project as a success. Read on to explore the highlights of our conversation.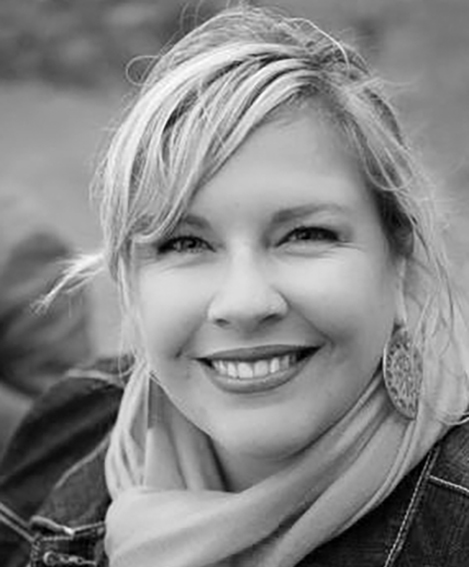 Gloster:
Hello and welcome to our interview with Robin Sturm, of Marc-Michaels Interior Design. Marc-Michaels is one of the most influential interior design firms in America today—with two offices in Florida and projects worldwide, they are prestigious members of Architectural Digest Magazine AD100 and Interior Design Magazine Design Giants. This illustrious firm has weathered many storms successfully in the 35-plus years since its founding partners Marc Thee and Michael Abbott first opened its doors, and with the support of hundreds of past clients and a team of more than 70 creative talents, the design firm is certainly one that is here to stay. Welcome!
Robin:
Thank you, that was great! Interesting to hear all of that again.
Gloster:
All of it well-deserved. So Robin, what prompted you to begin working with, or how did you hear about Gloster?
Robin:
To be very honest, I first heard of Gloster when I was an intern at Marc-Michaels. I think I was pulling furniture and it was just on a list of exterior design vendors we were pulling from, so I've been familiar with them for quite a long time. We used to use a lot of Gloster at some projects I did in Puerto Rico for exterior spaces. Now we're still using them, but the line has evolved so much! It still is relevant, and I love some of the new pieces that are in it. Someone else showed me the way to the catalogue, and that's how I started—from a print catalogue no less, not even the internet! [laughter]
Gloster:
What are the specific items that you like from Gloster, and that you think we do differently than others?
Robin:
One of the pieces we just placed—The Fern High Back Chair—comes to mind. One of our clients in Miami wanted something that could be outside and durable, but that felt different than other exterior furniture. We use so much resin and woven pieces, so it's always so much fun to find things that look like interior furniture for the outside. That particular chair with the woven textures used with the dark tones that are shown a lot in your photography—it's just such a handsome piece and looks amazing on their family logia off the house. One of my absolute favorites.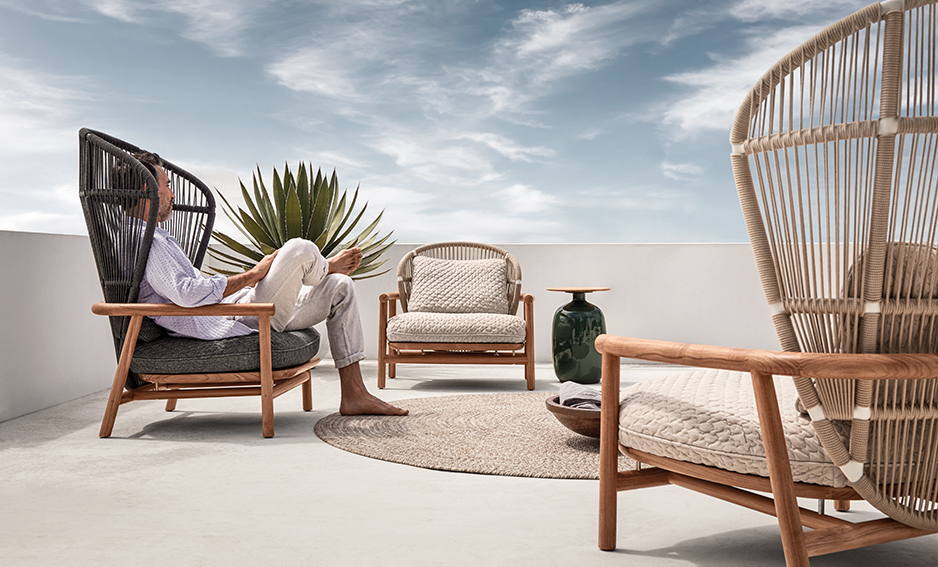 Gloster:
Excellent. When you're working on exterior spaces, do you find it more difficult to find inspiration opposed to interior spaces? For interior, you have the architecture, or flooring, or walls, or staircases, or lighting—but for outdoor, once you get past the landscape or water, where do you pull your inspiration from?
Robin:
Well, we are super fortunate that we are in Florida. There's so much additional inspiration in the interiors down here with the ocean, and our landscaping…everywhere you go, it feels like a resort, like you're on vacation. It's such a beautiful backdrop, I think, for a lot of the exterior spaces we do. In Florida, with the way we live, our exterior spaces are a part of our everyday living spaces. I think it's great when we can find pieces that fit into that lifestyle—but spaces are going to be lived in too, not just look beautiful.
Gloster:
Right, right—totally. What are some of the obstacles that you've found in your recent history of projects? Have any of them been especially difficult to work through?
Robin:
Well, being in Florida as I mentioned, weather is a big consideration all the time. Hurricane season is always in the discussion—are there high winds? Are you at the beach? Is there salt in the air? Clients want things that are durable and easy to take care of, especially in this humid, tropical climate that we have down here. I think that is probably the number one challenge we have—making sure to take the environment down here into consideration.
Gloster:
Being very familiar with Florida, have you ever had any issues where those little lizards or things like that find refuge in the furniture? What do you do about those kinds of issues?
Robin:
I haven't had—thank goodness—any encounters with reptiles. [laughter] We do get a lot of bugs, though—they're probably more of a nuisance than the reptiles, I think. One of my clients has a two-story logia ceiling, and for some reason, that ceiling attracts these tiny little gnats that always end up on her furniture. It has been a real struggle! It's an adventure, keeping that furniture clean for her day-to-day and in the long-term as well. Bugs are plenty down here. [laughter]
Gloster:
Yes, very true. Well, it was a swamp at one time!
Robin:
True. We're in their space, not the other way around.
Gloster:
Exactly. Moving on, what do you think are the top things the Marc-Michaels client asks for, with relation to outdoor furniture and accessories? Besides the durability and functionality.
Robin:
I think they want things that are easy to care for, which goes along with the durability. They want things that nobody else has—we hear that all the time. Everyone wants something that no one's seen before, and they want something that is comfortable because you're living outside. These are not always just showrooms—these are rooms that they're using and living in every day. I think those are the things that they all ask for, regardless of price point or location.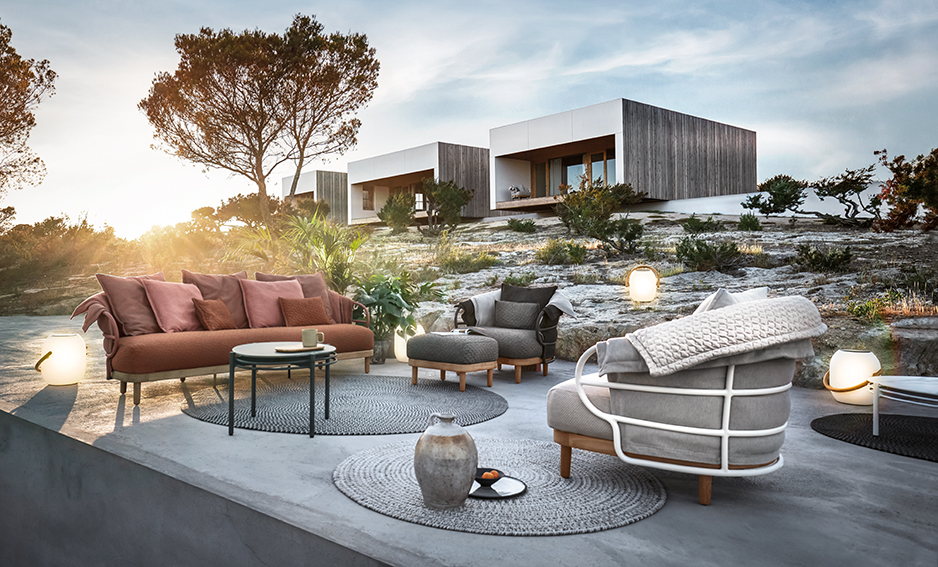 Gloster:
That's interesting. I noticed you didn't say they were price-conscious, because it is going outside. They want it unique, durable, and attractive.
Robin:
I think the price point comes up far less in exterior furniture than it does on the interior. I think people know there's more challenges with that kind of installation, so maybe they are willing to pay a little extra to have something that is going to meet their needs outside.
Gloster:
That's smart, actually. Very smart. What have been some of the most unique patio design requests one of your clients has challenged you with?
Robin:
Well, right now I have a client who wants no cushions on anything—that's pretty interesting….I think we did furnish a tree house one time, so that was pretty fun. We furnished dining tiers that went up into an old cypress tree in the middle of Florida. I would call that unique! That was only once though, but it was an interesting installation, for sure.
Gloster:
If you remember a while back, there was the trend of people wanting their master bedrooms to be very spa-like, or five-star hotel-like; Do you find any unusual trends that are happening outside, and specifically because of what has happened in the past year [2021] with us all having to be at home more? Especially considering your type of clients—they have many homes, and they're used to traveling and visiting homes for a small period of time and then moving on. Do you find any trends developing that are interesting to you?
Robin:
Yeah. I feel like people want…Anything that you can do inside, they want to do it outside; from game rooms and exterior pool tables to ping pong tables and family rooms, I think fully upholstered pieces for home exteriors are everywhere. You see that [regularly] now. I don't know how many years ago [that began], but we never would have even considered that, especially down in our tropical climate here. You see a lot of that too, but I think the most common thing we see is that there's no limit on the exterior spaces anymore.
Gloster:
Have you had any previous Marc-Michaels clients that have said, "Well, we've sold one house, or two houses, and we want this house to be the main residency. We decided that we don't really want to travel that much for various reasons—the past year being one of them." Do you see any of that happening? Or are people taking one house that's one size and expanding it, because now we've decided that this is going to be the place?
Robin:
Yes, all of that.
Gloster:
Oh, yeah, really?
Robin:
Yeah, all of that. I wouldn't know what the breakdown was on how many of these houses in Florida are the primary residence, but people are using them all the time. I think it's exactly what you said—with COVID, a house with amenities is a destination for a lot of people now. They want a home where they can do everything that they want to do and still feel like they're being entertained. If that feels like a resort to them? Then so be it! [laughter] I guess there is all of that [present]. The houses are getting bigger than they ever used to be, and I think a lot to do with it are these amenity areas and exterior spaces now being considered with an importance alongside interiors. I think COVID is driving a lot of that, for sure. People are finding their own homes as, "That's my vacation getaway".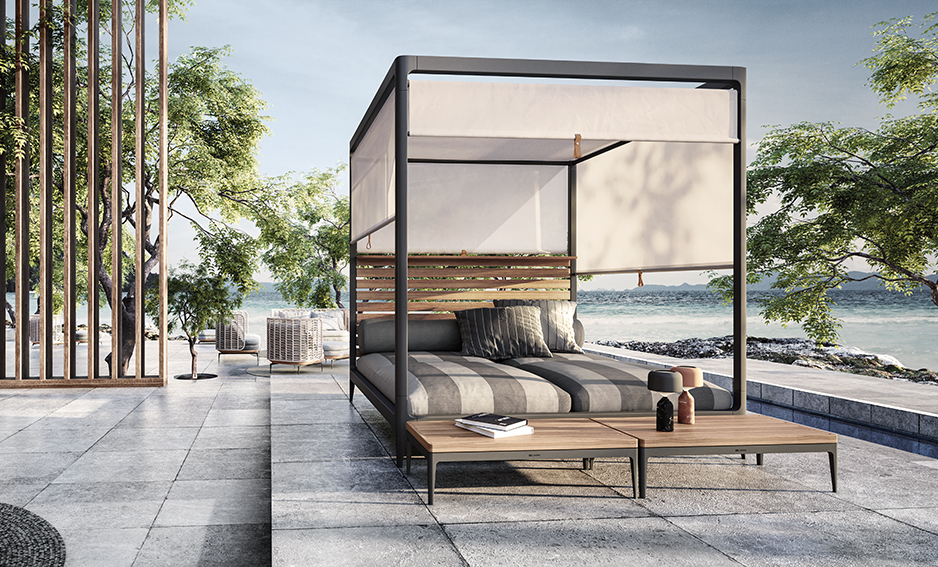 Gloster:
What types of amenities are you seeing clients request?
Robin:
Theaters are becoming so common, especially in larger houses. True theater rooms. We're doing bowling alleys, basketball courts, game rooms—just the whole range. Home fitness centers and things that rival a lot of hotel destinations. There's no limit anymore. If people can imagine it, a lot of times they want it. It's fun, and it's interesting when you get a challenge in a new space that you haven't taken on before.
Gloster:
In your years of experience with Marc-Michaels and also being in the business, what makes you define a project as successful in your opinion?
Robin:
Gosh; there are so many things, but I think ultimately, the client being happy is what we're looking for. There are so many layers of success that come from a project, but if Marc-Michaels can be happy with it and the client is happy with it, then that is all anybody can ask for at the end of the day. I think that's the number one thing, for me.
Gloster:
That's nice. I can see why Marc-Michaels has been around for 35-plus years. And you have come a long way from starting out with them as an intern!
Robin:
[laughter] Yes, I have.
Gloster:
Yes, you have. You've done really, really well. We're very grateful to have you and the Marc-Michaels firm enjoy and appreciate what we're doing at Gloster, and I look forward to collaborating with you again, and again, and again!
Robin:
Yeah, thank you so much. Thanks for the interest—it's great. We look forward to seeing all the new things that come to your line in the future.
Gloster:
Robin, thank you so very much for joining us today for a chat—Take care.
Robin:
Thank you, you too!
Inspired by our interview with Robin Sturm from the world-renown Marc-Michaels Interior Design? We at Gloster would love to hear from you. Browse through everything we have to offer, locate one of our partners close to you, or come visit us at one of our proprietary Gloster Studios.