When the creation of furniture specialized for outdoor use first became its own discipline in the mid to late 19th century, the goals of design were vastly different than what they are today. In the days of expansive gardens and palatial estates, the pioneering European designers tasked with creating some of the first outdoor furniture were more focused on creating sturdy, substantial wrought iron pieces or cushion-less bamboo frames supporting woven materials. These types of pieces, designed to artfully occupy a corner vignette, capture one's gaze during garden stroll, and only occasionally offer users a temporary seat, would act as a first step in the long evolution of outdoor furniture.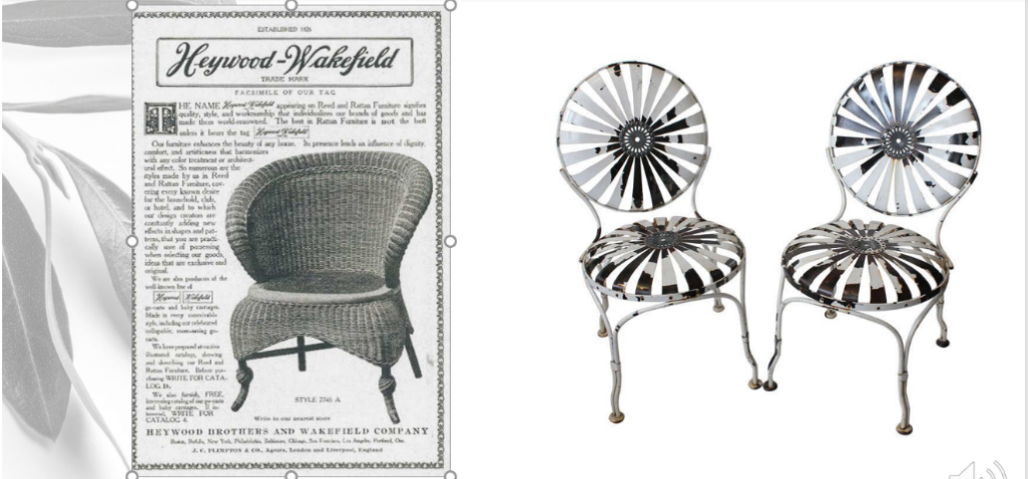 Examples of early patio furniture.
The late 1940s into the 1950s represented a pivotal time period for innovation in furniture design, and the outdoor realm was no exception. During a time of postwar prosperity, designers were liberated to explore and push the frontiers of both form and function, often expanding the boundaries of previous conceptions about what furniture was and could be. For the indoor realm, this change manifested in a variety of ways that included the advent of the midcentury modern style of architecture, organic forms in furniture, a pastel color palette, and much more. In the sphere of outdoor furniture and transitional spaces, major innovation took the form of upholstery for outdoor furniture, with cushions and fabrics being developed at a large scale for exclusive outdoor use for the first time.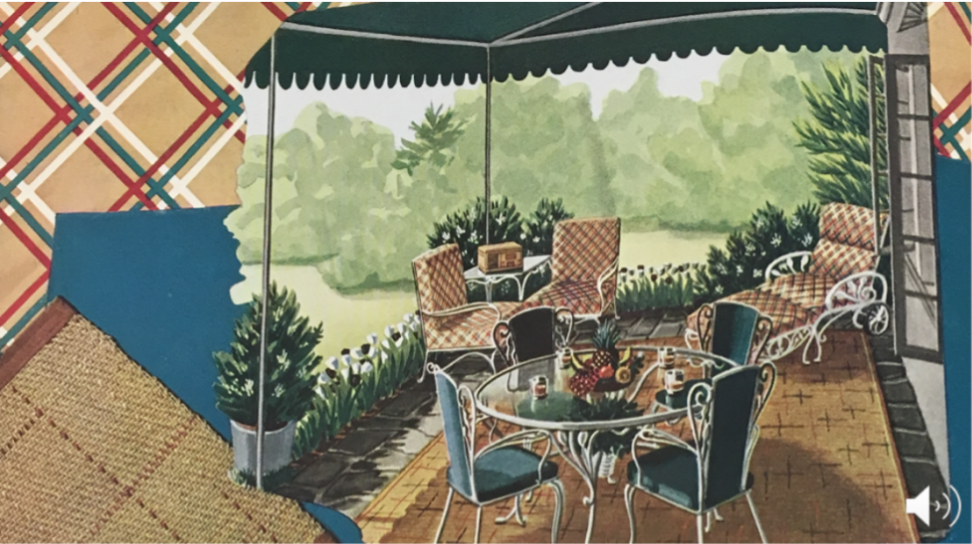 Patio furniture innovations of the 1940s-1950s.
The next period in time to witness a burst of innovation for outdoor furniture was the 1990s. After decades of steady expansion of outdoor furniture functions and the wide differentiation of styles, this era saw a boon in the next logical area of progression: the maturation of high-end brands that produced luxury outdoor furniture. By this time, luxury clients expected to have outdoor furnishings that could support all styles and functions while maintaining a level of comfort unattainable only a few years before. This demand trend, coupled with innovations in cushion and textile technology that continue on in present day, made available to designers and homeowners a level of flexibility, luxury, and comfort unprecedented in the industry, and served to blur the previously clear dividing line of indoor and outdoor furniture.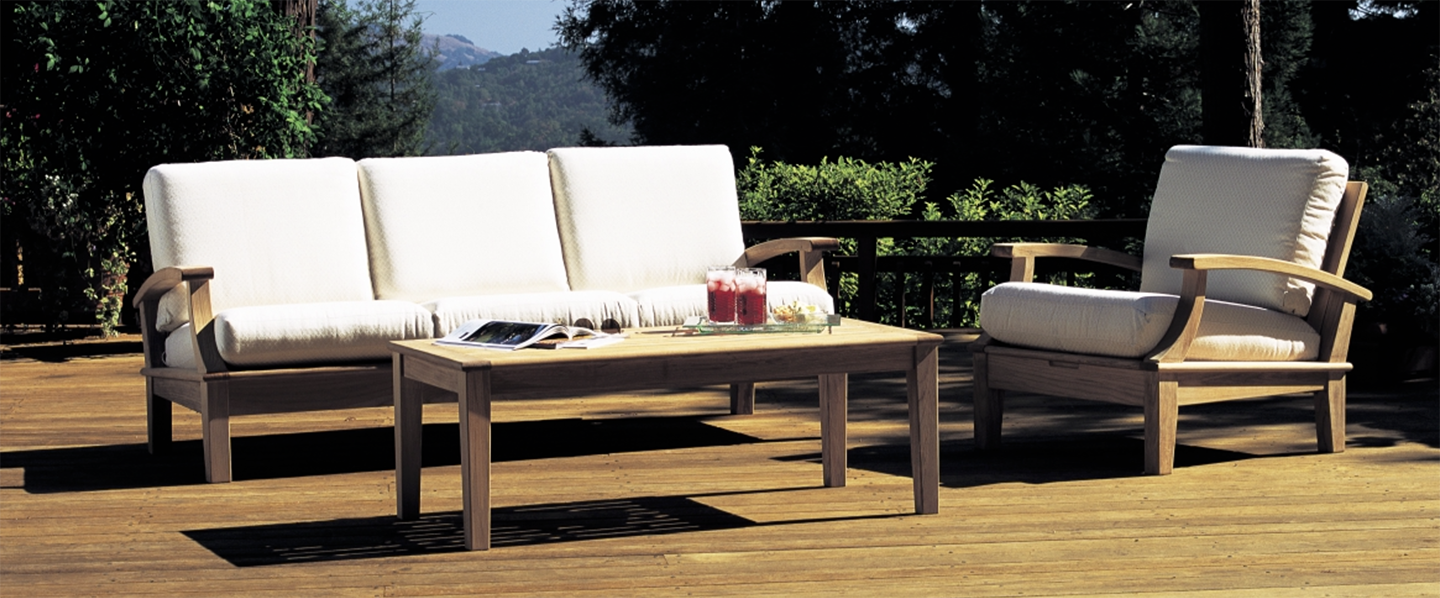 Gloster Ventura Collection
Gloster's path to becoming one of the premiere luxury outdoor furniture brands on the market is firmly rooted in the design trends that first arose during the innovative period of the 1990s. After beginning our journey mainly as a producer of robust, classically styled all-teak furniture, Gloster's collections have now evolved to a point of comfort and innovative design where many of our clients use outdoor furniture inside their homes or transitional spaces. Dansk lounge chairs upholstered in outdoor leather can serve as a visually enticing indoor accent; Raw dining tables with unfinished sapwood edges act as the striking centerpiece for grand banquet halls. Some interior designers have pushed the envelope even further with Gloster products, using the teak Arbor Side Table of the Standards collection as a bath-side table or the plush lounge chairs of the Dune collection as the central seating for a transitional space. While the design intentions and performance characteristics of these products and many others make them ideal for outdoor use, many of Gloster's furniture collections now achieve the degree of style and comfort that make them perfectly at home in an indoor environment.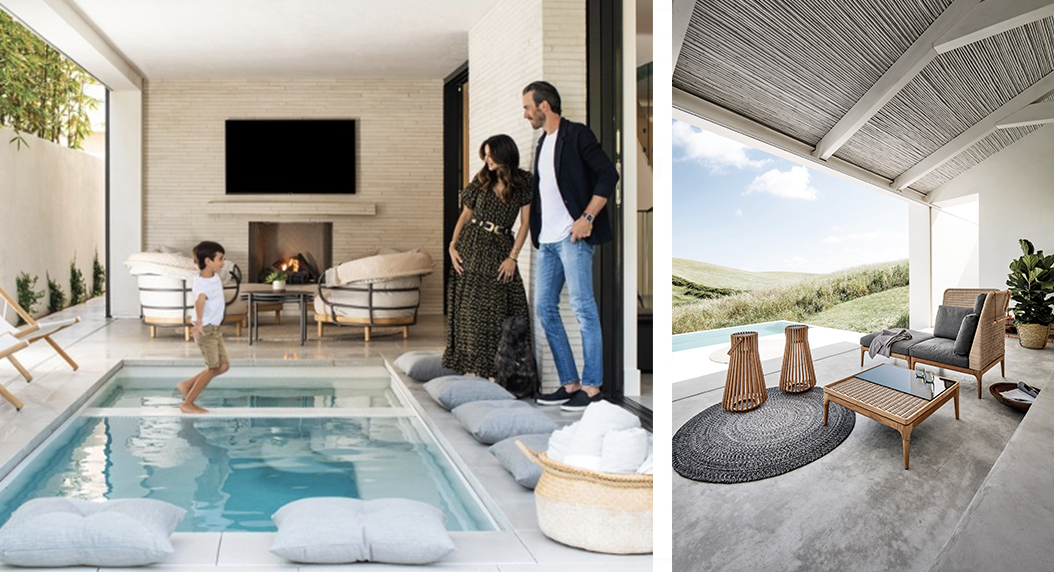 Left: Noureen DeWulf and Ryan Miller's Gloster-filled transitional space Right: Gloster LIMA collection in a transitional space.