When asking how to build an outdoor living space, there is no uniform set of rules to follow or list of factors to consider. Rather, the parameters of the space and the ability to pose the right questions and use their answers to finely tune an outdoor arrangement to one's own unique requirements is what is most essential. Paired with the Gloster catalogue of furniture and outdoor accessory pieces – wide enough to support any stylistic or functional desires, the ability to ask and answer these questions becomes paramount in the process of designing a perfect and unique space. So, what are the questions a designer or user should be considering?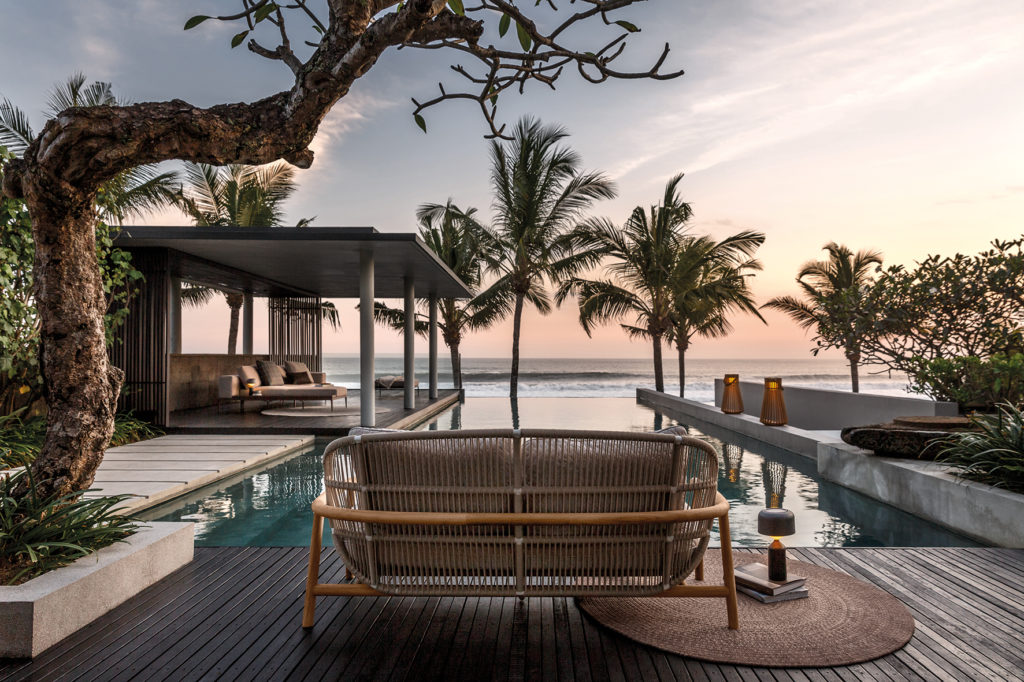 Fern Sofa.
One of the most important aspects of creating an outdoor living space is deciding on the goal of what a user or designer wants it to be. Is what is being created going to serve as the social centerpiece of a place to gather, or as an intimate escape for an individual or small group to enjoy? Do users want to encourage conversation or have their arrangement function as a hideaway or intimate oasis within the home? Discovering the answers to these essential questions is the first step a designer or user can take towards understanding the personality of their space and selecting the right furniture to support it. No matter the verdict, the Gloster catalogue features a wide range of products that are just as adept contributing to a wide-open social setting as they are in helping to support a private sanctuary. Expansive, modular sectional seating sets like Grand Weave and Grid are perfect foundations for spaces that thrive on conversation and interaction, while cloistered, enveloping collections like Mistral, Fern, and the Grid Cabana are ideal for creating a sense of comfort and privacy.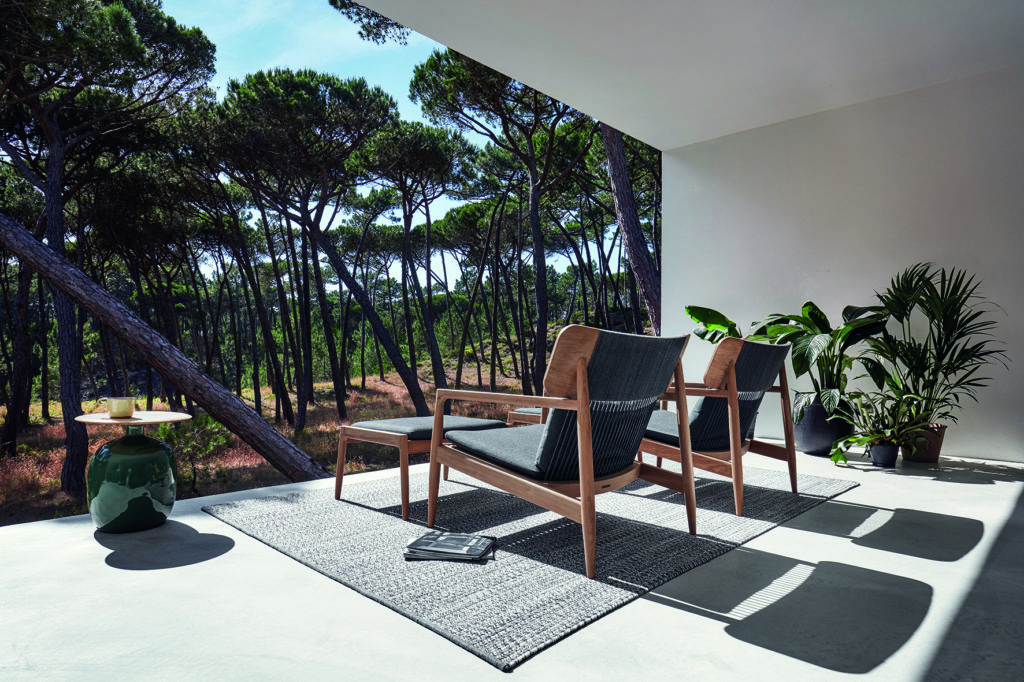 Archi Lounge with Blow side table.
Another key question to answer during the process of selecting furniture pieces for an outdoor space centers on the desired language of design: Does a user or designer place a higher priority on pieces with a unique, attention-grabbing aesthetic, or on deep, plush, tactile comforts? While all collections in the Gloster catalogue maintain an exceptionally high level of both comfort and design, some pieces do lean in favor of one direction over the other. Defining a user or designer's priority on elevated comfort or style early on in the process of selecting pieces for an outdoor space can help make the decision on what to include flow seamlessly. Striking, cushion-optional collections like Gloster's Archi Lounge Chair or Sway collection provide a different experience than what is offered by the plush, deep cushion seating of sets such as Dune or Bay, so having a sense the desired characteristics of a space can aid in navigating our catalogue and selecting the ideal piece to match the burgeoning personality of a space.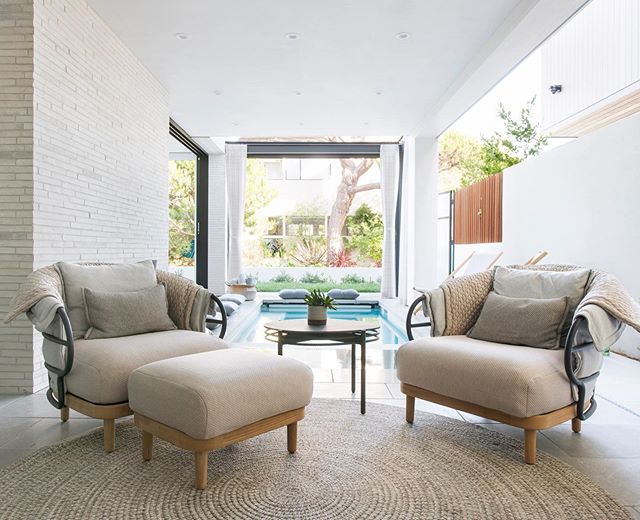 Dune Lounge and side table.
Another highly impactful question that one encounters when designing an outdoor living space is how much or how little a designer or user wants their outdoor area to mesh with the other parts of the home. Due to the nature of being more separated and distinct from other areas of a dwelling and the difference in materials used being greater than what one may find from one interior room to the next, outdoor living spaces can present an opportunity to radically depart from the stylistic language of the rest of the home if a user desires. Create a classically styled outdoor arrangement with the Ventura collection that juxtaposes a contemporary indoor mood, or utilize a sleek, modernistic furniture group like 180 or Carver to distinguish the personality of one's outdoor space from the rest of a home; Gloster features the range to support a match for or departure from any established style.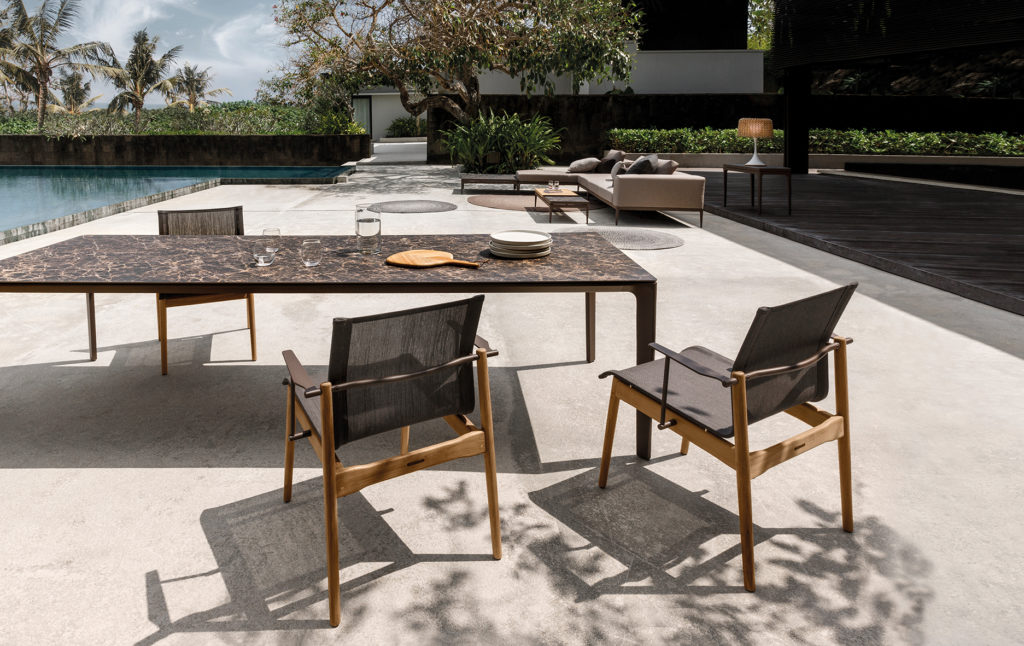 Carver table with Sway dining chairs.
These are just a few of the important considerations one should be pondering when designing an outdoor space. However, the true key to creating something perfectly attuned to its users is the ability to identify and answer the right questions, and to use that knowledge to inform the process of selecting the right furniture and creating the ideal outdoor living space. With Gloster, designers and users alike can rest assured that we have the furniture to support the functions, styles, and overall goals of any space.
Feeling inspired to create your personal space? Explore the possibilities with Gloster's 3D Planner Application.